(Accusing) Underworld Punishers



Stats
ELEMENT:
RARITY:
ATK:
BASE

(?)

PM

(?)

6588 (9333)
19215
DEF:
BASE

(?)

PM

(?)

6612 (9367)
19285
MAX LEVEL:

70

PWR NEEDED:

20

SKILL:

Supreme Sin

SKILL EFFECT:
SALES PRICE:

(?)

16500 Coins

EVOLVES
FROM:
Even transgressors of minor act unconsciously fear the Punishers. Those with no knowledge of their existence are unable to escape from the dread of their judgement. Humans from long ago call such dread "guilt", and all live averting their gaze from it. Making eye contact with a Punisher is said to be too much for the spirit to bear.
Acquisition
Edit
See Underworld Punishers.
Name origin
Edit
?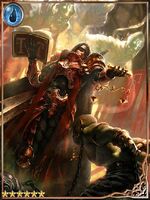 (Normal Card Image)
Ad blocker interference detected!
Wikia is a free-to-use site that makes money from advertising. We have a modified experience for viewers using ad blockers

Wikia is not accessible if you've made further modifications. Remove the custom ad blocker rule(s) and the page will load as expected.