(Anomalous) Fennel, Eternal Guard


As the sun set directly across from the grounds of the decaying stronghold, Fennel felt filled with joy. As a result of the countless scars and never-ending embraces, she had grown entirely unable to see reality for what it was. She now saw only the noble face of her beloved king and heard only words spoken by his solemn voice. For Fennel, the fallen king had become her reality, and the ruined castle overflowed with brilliant light.
Acquisition
Edit
Evolving two Fennel, Eternal Guard cards.
Name Origin
Edit
Fennel is a variant form of an English, Irish, and Scottish feminine name Fennella of Celtic origin. Anglicized form of the Irish name Fionnuala, means "white shoulder" derived from Irish fionn "white, fair" and guala "shoulder". In addition, Fenell is a variation of English, Gaelic, German, and Scottish Fiona.
Also fennel is a hardy, perennial herb with yellow flowers and feathery leaves. It is a highly aromatic and flavorful herb with culinary and medicinal uses. The word "fennel" developed from the Middle English fenel or fenyl. This came from the Old English fenol or finol, which in turn came from the Latin feniculum or foeniculum, the diminutive of fenum or faenum, meaning "hay".
Additional Info
Edit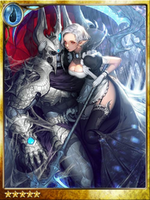 (Normal Card Image)
Ad blocker interference detected!
Wikia is a free-to-use site that makes money from advertising. We have a modified experience for viewers using ad blockers

Wikia is not accessible if you've made further modifications. Remove the custom ad blocker rule(s) and the page will load as expected.