(Plotting) Duke of Buckingham



Stats
ELEMENT:
RARITY:
ATK:
BASE

(?)

PM

(?)

2232
6510
DEF:
BASE

(?)

PM

(?)

1596
4655
MAX LEVEL:

50

PWR NEEDED:

11

SKILL:

Opinion Manipulator

SKILL EFFECT:
SALES PRICE:

(?)

4575 Coins

EVOLVES
FROM:
When the Duke realized that Cardinal Richelieu had learned of his secret, he immediately began to work out a plan to assassinate the Cardinal. However, when his plot ended in failure, Richelieu used his dark magic to turn the Duke into his own puppet. How ironic for the manipulator to become the manipulated.
Acquisition
Edit
?
Name origin
Edit
The Duke of Buckingham is one of the characters in Alexandre Dumas' novel Les Trois Mousquetaires (The Three Musketeers).
Additional Info
Edit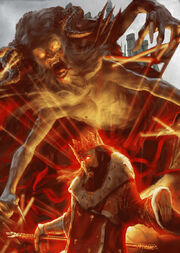 Ad blocker interference detected!
Wikia is a free-to-use site that makes money from advertising. We have a modified experience for viewers using ad blockers

Wikia is not accessible if you've made further modifications. Remove the custom ad blocker rule(s) and the page will load as expected.