Dark Minister Bartolini



Stats
ELEMENT:
RARITY:
ATK:
BASE

(?)

MAX
4320
10800
DEF:
BASE

(?)

MAX
3780
9450
MAX LEVEL:

60

PWR NEEDED:

18

SKILL:

Monstrous Rebirth

SKILL EFFECT:
SALES PRICE:

(?)

10900 Coins

EVOLVES TO:
It was not Ulalia that incited Bartolini into action. Rather, he always detested those feeble life forms known as "humans," and had constantly experimented with methods of warping them into grotesque brutes. Halloween was simply the perfect time to unleash the results of his work. In the first step to fulfill his ambitions, he transformed the neighboring human kingdom into shambling zombies with one fell swoop. He believed he was doing them a favor, for they would be able to boast strength and endurance far beyond the paltry limits of mankind.
Acquisition
Edit
?
Name origin
Edit
?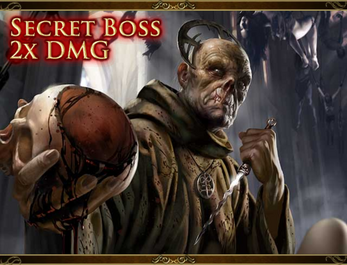 Dark Minister Bartolini is a secret boss encountered randomly during questing in the Festival of Souls raid event. Secret bosses are only encountered after defeating the two end bosses and the two hidden bosses at least once each. Secret bosses also don't show up until after half time. They are hit for double damage and the player has 2 hours to defeat them. This boss always begins with 18,000,000 hp.
The discoverer of this secret boss is awarded max 10 Spook Keys if the boss is defeated. Additionally, the discoverer and anybody else who participates in the battle and does at least 1,000,000 damage to the boss is rewarded with 2 Spook Keys.
Ad blocker interference detected!
Wikia is a free-to-use site that makes money from advertising. We have a modified experience for viewers using ad blockers

Wikia is not accessible if you've made further modifications. Remove the custom ad blocker rule(s) and the page will load as expected.