The Easter Login Promo started on March 7, 2016 at 8:00 AM (PST). User have the chance to acquire an exclusive Easter UR by accessing the Top Page before 5:00 AM (PST) every day to receive that day's ticket.
Usually there are more tickets received by a daily login then needed to clear out the box. This time the box was opened before the amount of tickets were distributed to clear out the box. So some players had to wait to obtain the second Curious Pet Kiki.
The Box cannot be reset.
Schedule
Edit

1 ticket daily from March 7th, 8:00 AM (PST) to April 6th, 7:59 AM (PST)
Card Pack is available from March 26th, 9:00 PM (PST) to April 12th, 8:59 PM (PST)
Box Content
Edit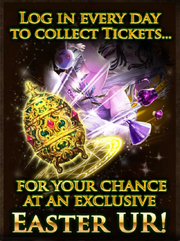 Ad blocker interference detected!
Wikia is a free-to-use site that makes money from advertising. We have a modified experience for viewers using ad blockers

Wikia is not accessible if you've made further modifications. Remove the custom ad blocker rule(s) and the page will load as expected.