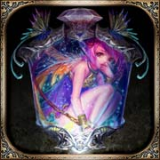 The "Faerie's Blessing" is an item sold in the Shop during any Odyssey Event. When used, it restored energy by 50%, and increased the drop rate of event items by 3x. Its effect lasted for 10 minutes from when it is first used. This has been changed to last for 30 quests starting with the Ring of Fire Odyssey Event.
During the odyssey event, these can be purchased for 100 gems each, or in special multi-packs. At the conclusion of the event, any unused blessings that were still left in inventory were converted into Energy Drinks.
Ad blocker interference detected!
Wikia is a free-to-use site that makes money from advertising. We have a modified experience for viewers using ad blockers

Wikia is not accessible if you've made further modifications. Remove the custom ad blocker rule(s) and the page will load as expected.