Feats were added on June 29, 2016. By accomplishing feats during normal play and events the player can earn Komora Stones which can be traded for cards and items.
The Stone Exchange opened on July 26, 2016.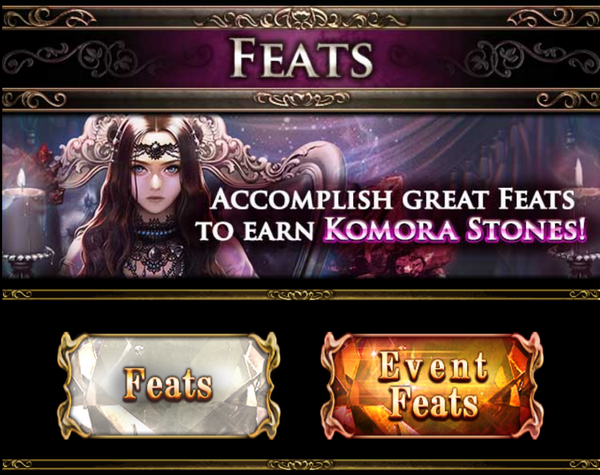 Daily, Weekly, Monthly
Edit
Blessed Bones
Edit
After completing and accepting the Daily Feats they can be rest twice a day by using Blessed Bones available at the Shop (10,000 Gems for 50, 1,200 Gems for 5 and 300 Gems for 1). The amount of Komora Stones acquired rises after each reset: 5 x the amount of the normal Daily Feats at the first reset and 10 x at the second.
Event Feats
Edit
NOTES:
Power Potions, Energy Drinks and Battle Elixirs mean the bound and unbound version.
Hitting the Ability Enhance button in Cryptid Assault is counted as 1 enhance, even if several Abilities were enhanced.
Ad blocker interference detected!
Wikia is a free-to-use site that makes money from advertising. We have a modified experience for viewers using ad blockers

Wikia is not accessible if you've made further modifications. Remove the custom ad blocker rule(s) and the page will load as expected.