WELCOME TO THE LEGEND OF THE CRYPTIDS WIKI

We are dedicated to being the best and most comprehensive resource of the popular game by Mynet (previously Applibot), edited by the players, for the players. We currently have 12,233 articles with 296,516 edits!

Anybody can contribute, even you! Don't be afraid, it's easier than you think! Come over to our Community Portal to learn how you can help, or scroll down to get started right away!

For the best viewing experience when using mobile devices, please ensure that you're using the full site rather than the mobile site.

---
CONTRIBUTING

It's easy to help! To create a new card page and get started right away, simply enter the name of the card into the box below. Afterwards, simply fill in the parameter fields for your new page, and press "Publish"!

To create a page for EX cards, use the following box instead!

Need help getting started?

Come to our New User Center to brush up on the basics, find tips and tricks on editing, and get mentored by one of our experienced editors!
Our Rules and guidelines can be a good place for general policies, as well as guidelines on editing and writing.
Use our Manual of Style to learn how to keep our pages neat and consistent.

Adding content

Adding images is one of the easiest ways to help out at our wiki! Please take note of our Image guidelines when uploading pictures.
Using templates can help keep information organized, and make it easier to edit things!
Don't be afraid to update existing pages with new information! It's as simple as pressing the "Edit" button!

Community

Our Community Portal is a good place to learn about what's happening around the wiki and find ways to contribute at the wiki.
Don't hesitate to contact our wiki admin if you ever need help! We're always happy to be of assistance!
The wiki forum can be a great place to meet other fans of LOC, and get help regarding the game or the wiki!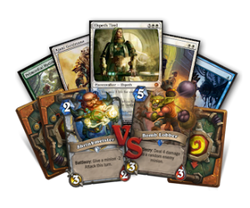 Collectible Card Games
Go to these sites for info or for help with your own wiki!
Badland Brawl • Clash Royale • Duel Masters • Girls X Battle • GWENT: The Witcher Card Game • Hearthstone: Heroes of Warcraft • Legend of the Cryptids • Magic: The Gathering • Rage of Bahamut • Valkyrie Crusade • Yu-Gi-Oh! • Z/X -Zillions of enemy X-
Want your community included? See how!