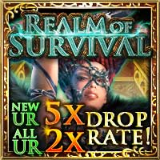 Realm of Survival: Boss Blitzkreig is a limited time card pack available from June 23, 2013 at 7:59 PM to June 28, 2013 at 7:59 PM.
The pack featured two new cards, one rare and one ultra rare, with the latter drop rate at 5× the usual. Both cards possess skills for defeating raid bosses, specializing in the Never Never Land raid event. In addition, standard cards from the Legends Card Pack were also drawn with the ultra rare drop rate at 2× normal.
Additionally, the new Ultra Rare card was available as a reward for defeating its boss equivalent, available to battle only after drawing from the card pack, with only cards drawn from the card pack permitted to fight the boss.
Card Additions
Edit
Ad blocker interference detected!
Wikia is a free-to-use site that makes money from advertising. We have a modified experience for viewers using ad blockers

Wikia is not accessible if you've made further modifications. Remove the custom ad blocker rule(s) and the page will load as expected.