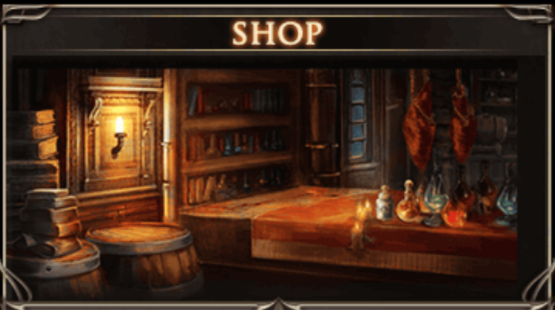 Since the introductions of Feats the Shop can be only accessed by a button on the bottom navigation. Prior to that the image shown above was beside the event on top of the Menu.
From the Shop players are able to access the button to buy Gems. With these gems they are able to buy items in the Shop.
Standard items
Edit
Standard items are always available.
Special items are mostly available during Events. Many of these special items have a limited amount of purchases available. Once in a while a Sand of Time is available as a single item or in a bundle.
Starter Packs
Edit
Starter Packs are available only for new players and all have a limited amount of purchases. With the Starter Exchange Ticket the player can choose one of 6 cards available.
Starter Kit for 100 Gems (3 Purchases)
Starter Kit for 1,500 Gems (2 Purchases)
Starter Kit for 5,500 Gems (2 Purchases)
Ad blocker interference detected!
Wikia is a free-to-use site that makes money from advertising. We have a modified experience for viewers using ad blockers

Wikia is not accessible if you've made further modifications. Remove the custom ad blocker rule(s) and the page will load as expected.