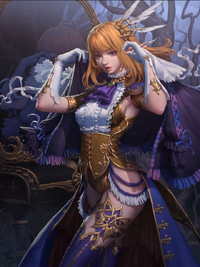 The Valentine's Login Promo started on February 10, 2016 at 5:00 AM (PST). User have the chance to acquire a 21PWR UR by accessing the Top Page before 5:00 AM (PST) for 9 days to receive that day's stamp.
Apart from Gems and tickets the daily bonus includes special items like Passionate Cookie (Bound) or Exquisite Chocolate Cake (Bound).
The UR Candy Gobbler Goiva can be evolved into element of player's choice with the Transcendental Forest Crest, Arcane Water Crest or Menacing Fire Crest.
Ad blocker interference detected!
Wikia is a free-to-use site that makes money from advertising. We have a modified experience for viewers using ad blockers

Wikia is not accessible if you've made further modifications. Remove the custom ad blocker rule(s) and the page will load as expected.