Whispering Celestial



Stats
ELEMENT:
RARITY:
ATK:
BASE

(?)

MAX
1940
4850
DEF:
BASE

(?)

MAX
1260
3150
MAX LEVEL:

40

PWR NEEDED:

10

SKILL:

Peaceful Pose

SKILL EFFECT:
SALES PRICE:

(?)

3000 Coins

EVOLVES TO:
Clad in a water-colored robe, the celestial maiden whispers to the creatures of the sea, urging them to cease their internal quarrels and instead prepare for the danger that lies ahead.
Name Origin
Edit
?
Additional Info
Edit
This card originally had different artwork (artist unknown):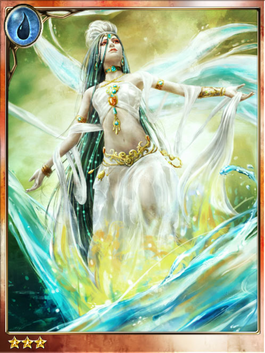 Ad blocker interference detected!
Wikia is a free-to-use site that makes money from advertising. We have a modified experience for viewers using ad blockers

Wikia is not accessible if you've made further modifications. Remove the custom ad blocker rule(s) and the page will load as expected.